Your are here: Home // Posts Tagged With Noor Ali
Opening batsman Noor Ali has been ruled out of Asian Games, starting tomorrow, and the Intercontinental final against Scotland which begins on 2nd December. 'Tweeting' on social networking site Twitter, Ali said he picked up a shoulder injury on the recent tour of Kenya which is preventing him from playing in Afghanistan's upcoming games. Ali, who scored a fifty in Afghanistan's...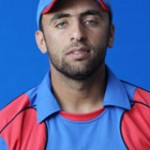 Kenya 180 (46.2 overs) beat Afghanistan 88 (27.5 overs) by 92 runs  Scorecard Kenya bounced back from their Intercontinental Cup defeat to Afghanistan by beating the same opposition in the first ODI in Nairobi. In a low-scoring match Kenya managed to defend a meagre score of 180, winning comfortably by 92 runs. Kenya won the toss and elected to bat; they got off to a good start, putting on 55 for...