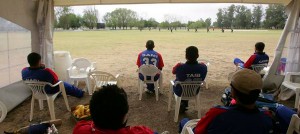 Afghanistan's inter-provincial domestic competition will start tomorrow, Monday 17th May, and will go on until the 4th June. Twenty four out of Afghanistan's thirty four provinces will compete in this domestic trophy. The matches will be played on a turf wicket in the capital Kabul.
"This is a fifty-over competition and marks a strong beginning for domestic cricket we plan to have in Afghanistan. We plan for regular competitions throughout the year which, beside fifty-over, will include T20 and three day cricket. We have also instructed provincial directors to hold inter-district tournaments," Dr Aimal Shinwari, the Chief Executive Officer of the Afghanistan Cricket Board, said.
The competition was originally planned for the 5th May, and then the 13th May, but due to logistical obstacles and the ground not being ready after a  harsh winter it has been delayed until tomorrow.
Most of members of the National squad are expected to participate in this tournament representing different sides. The exciting fast bowler Hamid Hassan and opening batsman Karim Sadiq will play for Nangarhar. Bowlers Hasti Gul and Aftab Alam will play for Kabul.
The 24 teams are divided into four groups. One team from each group will proceed to the semi-final. All the games will start at 9:00 am Kabul local time.
Also, the Afghan TV station, Shamshad Television, has announced that it will be giving updates on the competition every night from 9pm to 10pm.
Last year a twenty two team T20 inter-provincal competition was held in the Eastern city of Jalalabad. Kandahar won the trophy are beating Khost.