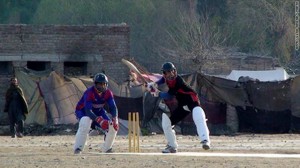 As Shamshad TV in Afghanistan have been broadcasting the matches, we have video highlights for you.
The first video contains the Laghman and Paktika match. Laghman (light blue) won this match by 39 runs.
Logar vs Jozjan features in the next video. Logar (red) came out easy winners in this game – by a huge 10 wickets.
In the final video, Kabul (blue) faced Ghazni for a place in the semi-finals. Kabul prevailed by 147 runs.

Shortthirdman, as he is known, has been closely following Afghanistan cricket since April 2009. He also has a blog, called Short Third Man, which is about all things cricket.