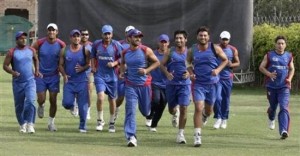 Kabul and Paktia prevailed in their semi-finals to reach the final of the inter-provincal 50-overs domestic tournament. 
The semi-final matches were contrasting affairs: one an easy victory; the other a hard-fought win. The easy win was for Kabul, who thrashed Panjshir. Kabul batted first and put up a competitive score of 225/8 in their 50-overs. Panjshir, who haven't played since group A, were routed for 66 runs in just 17.3 overs. Whether Panjshir didn't have as good a preparation as Kabul probably didn't matter as the capital team once again showed their bowling skill. The bowling is led by Aftab Alam, who played in the U19 World Cup, and is in the squad for the Netherlands tour, was once again the star. Aftab has been almost unplayable in this competition.
Today, Paktia sealed their place in the final with a thrilling win against Laghman. Laghman batted first and struggled to 223 all out in 48.1 overs. Paktia, who batted sensibly in their previous matches, once again went about the chase with maturity. Understandably they got a bit nervous and lost some late wickets. However, they eventually passed the total with 3 wickets and 14 balls left, to spark wild celebrations in the ground from their fans.
On Thursday this tournament will come to an end with Kabul and Paktia facing off for the winners title. Paktia have been the most consistent team with the bat; Kabul have had the most destructive bowling attack. Consequently, it should be an exciting final, with a pumped-up crowd.

Shortthirdman, as he is known, has been closely following Afghanistan cricket since April 2009. He also has a blog, called Short Third Man, which is about all things cricket.