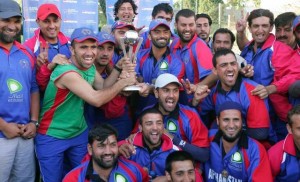 Kabul wrapped up a convincing win over Paktia in the finals of the Etisalat Afghanistan Domestic fifty-over tournament which is the country's main inter-provincial tournament. This was the first ever domestic 50 over tournament and the capital province Kabul reigned as they emerged as the Afghanistan domestic 50 over champions.
Kabul won the toss and elected to bat first. Paktia made a very slow start and then could not accelerate much throughout the game. They could only score 162 runs as they were all out in 48 overs. Kabul showed once again why they are regarded as such a strong batting unit as they cruised to the total in only 38.3 overs. They only lost 4 wickets as they went past the total to score 163/4 with 11.3 overs remaining.
Though the first ever Afghanistan Domestic fifty-over tournament comes to an end but this is the new beginning for Afghanistan Cricket as this tournament has displayed the passion and interest for the game of cricket in Afghanistan. The sense of competition at domestic level will surely help in bringing out better cricketers even at the national level.
Brief Scores:
Kabul Won the toss and elected to field first
Paktia 162/10 In 47.6 Overs RR : 3.40
Kabul 163/4 In 39 Overs RR : 4.17
Result : Kabul wins by 6 wickets

I am a devoted cricket fan from India for whom cricket is a passion, craze and almost like a religion. I am also the founder of this website and I started this website so that ardent fans of the rising Afghanistan Cricket Team can share their views, opinions and discuss about the team through this website.