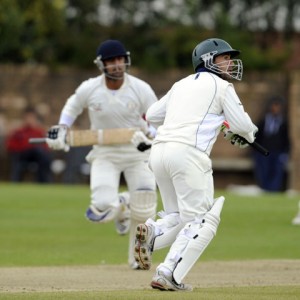 Day one: Afghanistan349 for 5 (Stanikzai 88*, Sadiq 67, Shahzad 54, Shenwari 50*) v Scotland
Afghanistan dominated the first day of their Intercontinental Cup match against Scotland in Ayr today. With contributions all the way down from the batsmen, Afghanistan finished at a strong 349-5.
Scotland would have expected to be in a much better position overnight, especially as they won the toss and put Afghanistan into bat. But Afghanistan quickly settled in thanks to a steady 67-run opening partnership between Noor Ali and Karim Sadiq. In recent months there has been a lot of shuffling in the opening slots but today they went back to the pair which have probably had the most success overall.
The way this stand ended though must have been very infuriating for coach Kabir Khan. Having already ran three, an overthrow from the Scots caused confusion between the two batsmen; the end result was Noor Ali trudging back to the pavilion for 36.
Next in was Mohammad Shahzad, perhaps the most promising player in Associate cricket, let only Afghan cricket. He started off with his usual flurry of boundaries, and led the visitors, along with Karim Sadiq, to a healthy 111-1 at lunch.
On to the afternoon session and Afghanistan progressed serenely to 155-1, before two edges behind off the bowling of Matt Parker kept the Afghans in check, leaving them 166-3. Shahzad (64) and Karim Sadiq, who made a first-class best of 67, were the men to depart. The two new batsmen, Asghar Stanikzai and captain Nawroz Mangal, held thing together until tea.
Scotland came well and truly back into the game after the interval when Mangal (29) recklessly got out going for a big shot, followed by the dangerous Mohammad Nabi getting trapped lbw for just 10.
But Asghar Stanikzai and Samiullah Shenwari, while fortunately surviving chances, made sure it was Afghanistan's day as they remained undefeated before the close. Samiullah reached his half-century in the final over of the day, but it was Stanikzai who was the star of the day, as he also made his best first-class score, and is only 12 runs away from making a hundred. If Rashid Latif, the new batting coach, was to have any grievances about the first day's play it will be that none of the batsmen went on to make a big score, so Stanikzai has the chance to rectify this tomorrow.
In the morning Afghanistan will look to go past 400, maybe a bit more, and then it's over to their bowling attack on a track that, while being good for batting, is bound to offer some assistance for the fast bowlers.

Shortthirdman, as he is known, has been closely following Afghanistan cricket since April 2009. He also has a blog, called Short Third Man, which is about all things cricket.