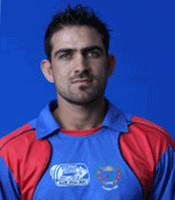 Afghanistan ended a good tour on a bad note as Scotland levelled the series with a thumping win. Having won the toss, the Afghan batsmen could only manage a paltry 120 all-out in 40.2, and only four men made it to double figures. Despite the loss of early wickets, Scotland got to the target with only 4 wickets down and with 97 balls to spare.
Afghanistan made two changes to the winning line-up from yesterday: they replaced opener Noor Ali with Javed Ahmadi, who had made his debut in the WCL last month; and U-19 World Cup star Noor-ul-Haq came in for spinner Abdullah.
Ahmadi, playing as an opening batsman, was straight away under the microscope as his partner Karim Sadiq, who made a 100 the previous day, was dismissed first ball, edging behind to wicket-keeper Dougie Lockhart off the bowling of Gordon Drummond. It was a stark reminder for Karim Sadiq how quickly the game can change: he went from a blazing hundred to a golden duck in 24 hours.
The other centurion from yesterday, Mohammad Shahzad, also failed, scoring 11 before being bowled by Matthew Parker.
The next wicket arrived with the score on 34, as Nawroz Mangal was caught and bowled by Josh Davey. That was Davey's first wicket – he went on to claim incredible figures of 5-19. The way he ripped through the middle-order showed batting coach Rashid Latif that there is still a lot of work to do despite generally being very good with the bat on this tour.
At their lowest ebb, Afghanistan were 49-6 – it was always an uphill task from there. Samiullah Shenwari put up the best fight as he top-scored with 46 runs off 74 balls. 
The batting powerplay brought the Afghan innings to a swift conclusion. The tail opted to swing instead of batting out the overs; they duly ended up 120 all-out with plenty of unused overs.
Two early wickets in the Scotland innings got the Afghan fans excited though defending a score as low as this was insurmountable even for Hamid Hassan. Fraser Watts led Scotland to the victory with a well-made 55 not-out.
It was a disappointing end to the tour but, with the cruical Intercontinental Cup win in the bag, Afghanistan needn't worry too much.

Shortthirdman, as he is known, has been closely following Afghanistan cricket since April 2009. He also has a blog, called Short Third Man, which is about all things cricket.