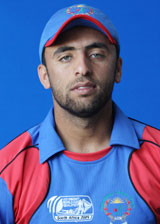 Kenya 180 (46.2 overs) beat Afghanistan 88 (27.5 overs) by 92 runs  Scorecard
Kenya bounced back from their Intercontinental Cup defeat to Afghanistan by beating the same opposition in the first ODI in Nairobi. In a low-scoring match Kenya managed to defend a meagre score of 180, winning comfortably by 92 runs.
Kenya won the toss and elected to bat; they got off to a good start, putting on 55 for the first wicket. However, as so often is the case, Hamid Hassan's introduction caused wickets to fall. The strong paceman took out both of the home team's openers. A partnership of 77 then followed between Collins Obuya and Steve Tikolo, but an extraordinary collapse of 8 wickets for 41 runs meant Kenya could only manage 180. Hassan and Mirwais Ashraf, picking up four wickets each, had the best figures for Afghanistan.
It was expected that Kenya's total wouldn't be enough, especially when Karim Sadiq and Noor Ali started solidly, but the Afghans suffered an incredible meltdown in their innings. From 32-0 they lost all 10 wickets with the addition of just 56 runs, ending up with a pathetic score of 88 in 27.5 overs. The only Afghanistan batsmen to emerge from the carnage with any credit was Noor Ali, who scored 41 while showing a level of application that was missing from his colleagues. Nehemiah Odhiambo was the pick of Kenyan bowlers, finishing with 3-16 from his six overs.
Afghanistan will have to compose themselves after this embarrassing lose for the next ODI on Saturday.

Shortthirdman, as he is known, has been closely following Afghanistan cricket since April 2009. He also has a blog, called Short Third Man, which is about all things cricket.