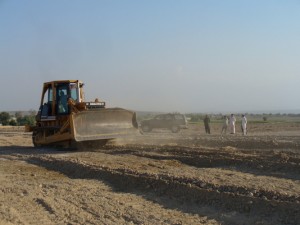 Building has begun on Afghanistan's first international standard cricket stadium in the Ghazi Amanullah Khan township in Nangarhar Province. The Afghanistan Cricket Board (ACB) hopes that the construction will be completed in 5 months and that the stadium will be ready for the planned Ramazan Cup matches to be held in Ramazan next year.
The present construction allows seating arrangement for 7,000 in the stadium due to financial constraints, but the stadium has been designed in such a way so that it can be expanded to accommodate more than 60,000 people
"Once completed, the stadium will not only help solve the difficulties Afghan cricketers currently face due to lack of proper playing facilities, but will also enable the ACB to invite other nations to play in an international standard venue in Afghanistan," ACB Chief Executive Dr Hamid Shinwari said.
"The stadium will include four international standard pitches, an advanced cricket academy and a hostel for players training at the academy. The ACB sees cricket as more than just a sporting activity in Afghanistan.
"We believe it is a tool for peace building in our country. The start of construction on the Nangarhar Stadium is not just a physical building, but a sign also of a new way of building our country, building our young people and building peace," he added.

I am a devoted cricket fan from India for whom cricket is a passion, craze and almost like a religion. I am also the founder of this website and I started this website so that ardent fans of the rising Afghanistan Cricket Team can share their views, opinions and discuss about the team through this website.