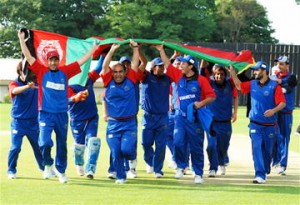 Bangladesh narrowly defeated Afghanistan by 5 wickets with just 3 balls remaining to win gold in the Asian Games. A late burst from lower-order batsmen Sabbir Rahman of 33 runs off 18 balls took the game from an Afghan side who looked at one stage to be comfortably winning.
After an impressive victory over Pakistan confidence was high in the Afghanistan camp but they were quickly under the cost as Bangladesh reduced them to 66-6.
However, just as in the last match, youngster Shabir Noori and the consistent Asghar Stanikzai steadily re-built – this time with a valuable 34 run partnership.
Noori fell for 25 but Stanikzai stayed until the end of the innings, progressing to 38 off 36 with 3 fours and 1 six, as Afghanistan finished on 118-8 in 20 overs. As shown against Pakistan, a total not to be sniffed at.
Bangladesh faltered regularly through their innings, and when they slipped to 75-5 Afghanistan became favourites for the first time in the match.
Sabbir Rahman and ODI international Naeem Islam gradually brought Bangladesh back into the game, though.
The game's decisive twist was the 19th and penultimate over. Bangladesh needed a tricky but very gettable 19 runs off two overs. Captain Mohammad Nabi could have given the ball to Hamid Hassan, who had one over left, or leg-spinner Samiullah Shenwari, but instead he opted for Karim Sadiq, who already had two wickets.
It turned out to be a big mistake as Rahman smashed the third and fourth balls for six to take 17 runs off the over.
Bangladesh sealed the win and the gold in the final over, winning with five wickets and three balls left.
Nabi was understandably gutted but still insisted he was pleased with his side's efforts.
"I am happy with today's silver. It means a lot to all our people back home, who are badly affected with the war," Nabi said. "Even though we lost the gold today, this silver medal will give enough inspiration to our administrators to start building playing facilities so that more and more young players could be attracted toward this game."
As Nabi said, Afghanistan run to the final will have helped convinced administrators to invest in much-needed facilities. As well, their performance will have ensured even more people become interested in cricket in Afghanistan.
To see the full scorecard of the final on cricinfo, click here.