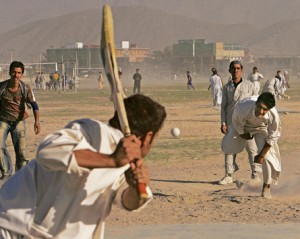 Afghanistan will later today look to cap off a remarkable year for the side as they begin their five-day Intercontinental Cup Final match against Scotland. The game will be played in Dubai, at the same venue where Afghanistan sealed their place in the World T20 at the start of the year.
The Intercontinental Cup began in August 2009 against a Zimbabwe XI for Afghanistan and they have played in six games overall, winning five and drawing just one as they easily topped the league stage of the tournament. A notable highlight in their run to the final was beating defending champions Ireland in Sri Lanka, while they also beat their final opponents Scotland in a league game, thrashing them by 229 runs in Ayr in August
Scotland road to the final has been less smooth, as they have Zimbabwe to thanks for forfeiting their match after the Scots refused to travel on government advice for a place in a final.
Unlike all the other matches in the competition, this is a  five-day game as opposed to four. If the game finishes in a draw Afghanistan, who will be captained by Nowroz Mangal, will win the trophy as they ended the league stage top.
Afghanistan will start hot favourites, with their lively bowling attack expected to give them an edge on a likely flat Dubai track.
Afghanistan: Nawroz Mangal (captain), Karim Sadiq, Asghar Stanikzai, Hamid Hassan, Samiullah Shinwari, Shapoor Zadran, Shabir Noori, Shehzad Mohammadi, Aftab Alam, Batin Shah, Abdullah Mazari, Mohammed Nabi, Mirwais Ashraf, Mohammed Sami Agha, Afzar Zazai, Najeeb Zadran, Gulbodin Naib and Khaliq Dad Noori
Scotland: Gordon Drummond (captain), Kyle Coetzer, Neil McCallum, Richie Berrington, Majid Haq, Fraser Watts, Simon Smith, Gordon Goudie, Ross Lyons, Preston Mommsen, Matthew Parker, Gregor Maiden, Ryan Flanniganand Stuart Chalmers.

Shortthirdman, as he is known, has been closely following Afghanistan cricket since April 2009. He also has a blog, called Short Third Man, which is about all things cricket.