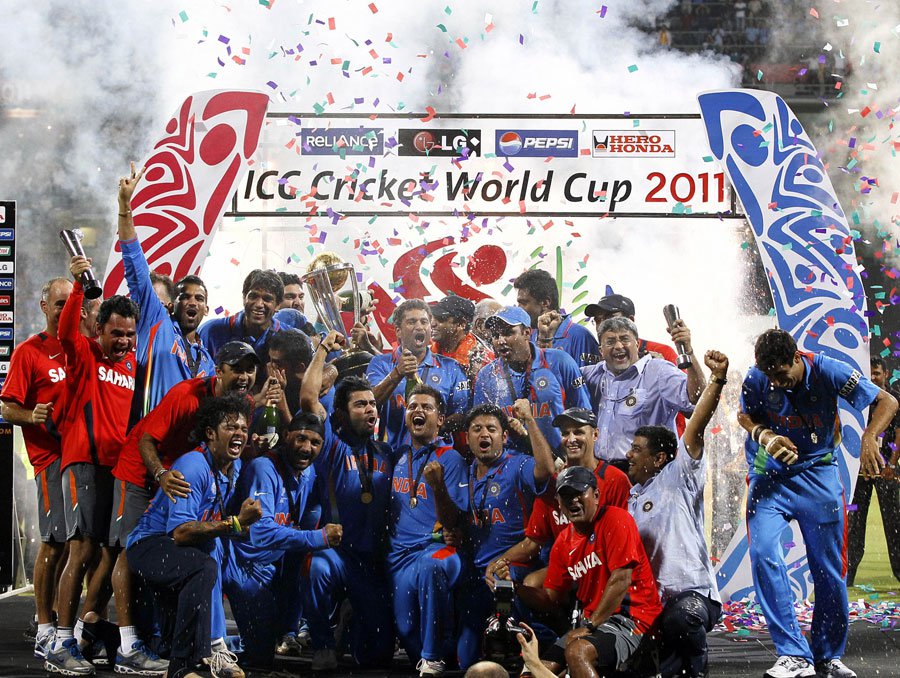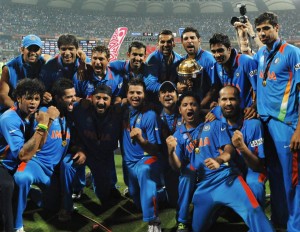 India defeated Sri Lanka by 6 wickets in the final of the 2011 Cricket World Cup to become the new World Champions. As many of you know might know, I am an Indian and this is a historic moment for all of us Indians as we have been able to win the coveted trophy after a gap of 28 years. We were the first country to break the winning record of the West Indies when we won in 1983. And now after a gap of 28 years, we have again broken the winning record of Australia who won the last 3 world cups. But this World Cup win is more special because it was a lot more convincing as we went in as favorites and also emerged as winners. This is also special because this is probably the last World Cup for the proud son of India and perhaps the best batsman ever to have played the game of cricket in Sachin Tendulkar. The joy of winning the World Cup is overwhelming for us and cannot be expressed in words in this great nation where cricket is very nearly a religion which every Indian follows.
Sri Lanka won the toss and decided to bat. But India's best bowler and pace spearhead Zaheer Khan bowled three consecutive maiden overs to throttle the Sri Lankan run rate completely. He then got Upul Tharanga off the first ball of his fourth over given India the first breakthrough. After Zak's spell Sri Lanka recovered a bit though they kept on losing wickets regularly until Mahela Jayawardene played a brilliant knock of 103 runs off 88 balls to guide the Lankans to a very competitive total of 274 runs in their stipulated 50 overs. In reply, India came to bat but lost both the openers in Sachin Tendulkar and Virender Sehwag in just 6.1 overs with 31 runs on board. But we proved why we deserve to win as Gautam Gambhir and Indian captain Mahendra Singh Dhoni scored 97 runs and 91 runs respectively to guide India to the target with 10 balls to spare. The brilliant Indian captain Dhoni was awarded the Man of the Match for his important knock in the crucial match while Yuvraj Singh was awarded the Player of the Tournament for his brilliant all round performance with both the bat and ball. We won convincingly and defeated the best teams in Australia in the quarter finals, Pakistan in the semi finals and Sri Lanka in the finals to thump our authority and to silence all the critics of the Indian team. We are already the no.1 test side in the world and hopefully we can start world domination soon as Australia did in the previous decade.
ICC World Cup 2011 has been very good and even teams like Afghanistan can take inspiration from the likes of Ireland who have gained the respect of all cricket fans through their great performance. Nobody gave much importance to Ireland at the start of the World Cup but they defeated the likes of England and gave tough competition to every opposition they faced. They were not just another minnow anymore but were looked upon with respect by cricket fans all over the world. Afghanistan can also draw inspiration from Ireland
s performances and try even harder to become a very good team till the next World Cup so that they can also make their presence felt on that stage. Before that there is also the 2012 T20 World Cup where Afghanistan will hopefully give a much better performance and give tough competition to other oppositions.

I am a devoted cricket fan from India for whom cricket is a passion, craze and almost like a religion. I am also the founder of this website and I started this website so that ardent fans of the rising Afghanistan Cricket Team can share their views, opinions and discuss about the team through this website.