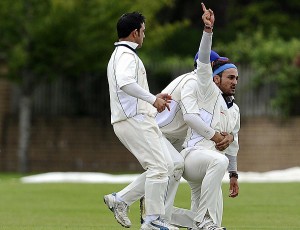 Hamid Hassan took a 5 wicket haul including a hat-trick for MCC as he finished with 5/17 in his stipulated four overs in the second semi-final of Emirates Airline Twenty20 against Nottinghamshire. Notts edged past MCC in the close game and later went on to win the tournament but Hassan's performance was the limelight of the match. Hassan's compatriot Mohammad Nabi also made a quickfire 26 runs from just 15 balls, including two sixes and bowled four wicketless overs for 30 runs in the defeat. The performance of Hassan and Nabi even impressed the Indian legend and fifth highest runs scorer in the history of ODI cricket Sourav Ganguly who was captaining the MCC side. As per Lords' website Ganguly said:
I played alongside Hassan and Nabi at Lord's last year and they looked very good then – eight months later and they have both improved.Hamid has improved in particular. He really looks an improved bowler and bowled very well today.
Ganguly also praised Afghanistan cricket talent and said
Hassan and Nabi are examples of the talent which is out there – who, given the right opportunities, can help to develop the world game – it is not always about a Tendulkar, Lara or a Ganguly.
He also praised MCC for working for their work towards cricket in Afghanistan.
Hamid Hassan impressed onlookers, teammates and opponents with his pace and aggression. Speaking after the T20 defeat, Hassan thanked MCC and spoke of the possibility of moving into the English county game. He said
It is such an honour to play for MCC. I am very thankful for the opportunities that I have been given by the Club so far.The experience that I have gained playing alongside the likes of Rahul Dravid and Sourav Ganguly over the past week has been fantastic and I really hope that I can continue to play for MCC in the future, and make the step into English county cricket. I haven't had a chance to test my skills consistently at this level yet, but I think I would have a lot to offer to a county side.
Hope that he gets his opportunity in English county cricket very soon and Afghanistan get more top level cricket against good teams so that he can showcase his talent at the big stage more often.
You can find the full article about the same here:
http://www.lords.org/latest-news/news-archive/ganguly-praises-mccs-afghan-work,1975,NS.html
You can also check the match scorecard here:
http://www.espncricinfo.com/ci/engine/current/match/506405.html