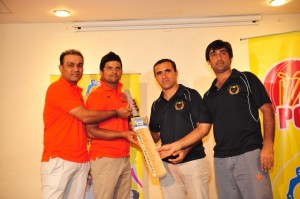 Afghanistan pulled up a spirited fight against the current ICC ODI champions and 2007 ICC T20 World Cup winner India in their first match of the ICC T20 World Cup today. Afghanistan captain Nawroz Mangal won the toss and decided to field. India struggled early and the out of form openers Gautam Gambhir and Virender Sehwag were scalped early by Shapoor Zadran. However, Virat Kohli (50 runs off 39 balls), Suresh Raina (38 runs off 33 balls) and a quickfire 18 runs off 9 balls by Indian skipper MS Dhoni helped India reach 159 runs for 5 wickets in 20 overs. Though the ground fielding of the Afghanistan players were upto the mark but the number of missed catches (including several easy ones) definitely reflected the lack of experience at the international stage. Afghanistan in reply started well with Mohammad Shahzad scoring 18 runs off 16 balls while captain Nawroz Mangal scored 22 runs off 18 balls followed by Karim Sadiq (26 runs off 26 balls). However, once the Indian spinners came, the Afghanistan batsmen found it quite difficult and except for a quickfire 31 runs off 17 balls by Mohammad Nabi, all the other batsmen went out early. Afghanistan were all out for 136 runs in 19.3 overs. Yuvraj Singh and L Balaji scalped 3 wickets each for India while R Ashwin took 2. Virat Kohli was awarded the Man of the Match.
As a writer in a popular Indian news website pointed out, India took the T20 match but Afghanistan won hearts. Except for the missed catches, Afghanistan played like an extremely professional and seasonal team in World Cricket. India is a subcontinental giant and are well aware of playing conditions in the subcontinental tracks such as those in Sri Lanka where the matches are held. However, England does not have an exceptional record in the subcontinent. But at the same time, they are also the current T20 champions though the last T20 World Cup was held on completely different conditions. So, the next match might be even more interesting if Afghanistan players give their best against England in their next World Cup T20 match on 21st of September.
However, there are a few points that the Afghanistan team needs to ponder upon before the next match:
1) The observation today was that Afghanistan batsmen are not the best against bouncers. And Afghan bowlers do not use the bouncer that frequently too. England bowlers use bouncers as a regular weapon in their cricketing arsenal. So, Afghanistan batsmen need to rectify their weakness against the short ball or England might use it extensively.
2) England is one of the best fielding sides in the world and hardly ever miss catches. But Afghanistan fielders seemed to have butter fingers while catching today. Catches win matches. So, if they cannot hold on to the catches, then England will have a major advantage on that front too.
3) England also has a couple of good spinners. So, Afghanistan needs to play the spinners well in order to pull up a good batting performance.
One benefit for Afghanistan though is that England's star batsman and one of the world's most prolific T20 players Kevin Pietersen is not going to be present in the English team. Afghanistan players need to give their best in order to have any chances of defeating the current T20 World Cup champions in the next match. A win in the next match might also pave way for Afghanistan to move to the super eights round for the first time in it's history.